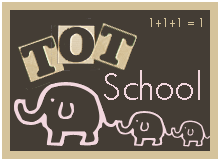 You've heard me say it a thousand times! With Hannah Jane being on to the more serious schooling, I have sort of expected the boys to just come along for the ride and I have neglected to do the traditional preschool activities with them. Looking back on it, I have decided that there are 2 reasons for this. First, Hannah Jane is a whiz bang and seemed to just intuitively know all of the preschool stuff. I never taught her that. She knew it all by 2 and then she was ready to move on to bigger subjects, so I hadn't really planned all the preschool stuff. Second, I suppose that I see a benefit in the littles coming along for the big kid stuff. They are being exposed to thoughts and ideas that many preschoolers never get. So that's good to a limit.
Anyway, all of this is to tell you about this really cool site that I found when I finally decided to look and see who my "followers" were for this blog. One of them, Chelsea, had a list of blogs that she followed other than mine. I gave 'em each a click and boy was I thrilled with one of them!
There's a site called 1+1+1=1 and they have these tools called "
tot packs
" that contain everything you need for preschool lessons or units based on everything from books to movies to holidays and seasons. They are the perfect, simple lessons that my boys have been needing, but that I was too complicated to come up with. Best of all, they're FREE!!!
Knowing me, I'll wear them all out in a few weeks, but this gives me a better idea of what sort of activities I can create on my own so that the boys aren't expected to follow along with Hannah Jane's recent interest in medieval surgery.
So today I'll print out first tot pack of materials and have a lot of fun taking the time to do the little things! I'd say that I'll let you know how it turns out, but I can already tell that it's going to be great!